Infrared Body Therapy
Specially formulated creams are applied in combination with infrared heat, to promote the break-down of fat cells stored in the body. These fat cells are then turned into fatty acids, which can then be used throughout the body as converted energy. The energy required for the body to sweat during an infrared session comes directly from these fatty acids.
The infrared system encourages the detoxification of oils, dirt, and various toxins from the body that can hinder circulation. This micros circulation allows the hormones that control fat storage to reach the fat cells, and enable proper fat management. Clients participating in infrared sessions for a minimum of five treatments will continue to see fat loss. With each session the body works to loosen more of the densely stored fat and to purge itself of built up toxins, encouraging better overall health.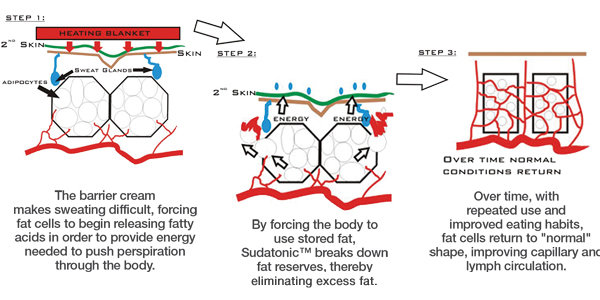 The Infrared System can help:
Micro circulation returns, bringing valuable nutrients, oxygen, and energy to improve skin tone and elasticity

Circulation to fat cells improves, providing for more natural and healthy fat cell metabolism and lipolysis

Reduces cellulite and stretch marks

Lowers body fat and facilitates weight loss

Relieves pain of joints and muscles

Speeds up metabolism and stimulates the lymphatic system

Releases toxin build up and increase energy
Services
Infrared Energy Body Wrap


Stimulate your lymphatic system with a relaxing massage with our special creams to get your blood circulating. Lose inches while our infrared energy technology detoxifies your body while promoting an increased metabolism.

$125.00
Infrared Elite Body Wrap

Our most comprehensive treatment, the Infrared Elite gives your body the detoxification it needs with the relaxation you want. We wrap your entire body with our proprietary blend of aloe, lavender, eucalyptus, and avocado. Then melt away inches and weight as we combine herbal and the Infrared Energy technology. The Infrared Elite package gives you the best of both worlds.

$145.00

Core Power Belly Wrap
Diminish that stubborn belly fat using the same infrared technology focused on your midsection. We wrap your midsection with our proprietary blend of detoxifying herbal formula of aloe, lavender, eucalyptus, and avocado. Unwind as the belly wrap and infrared energy helps your body lose those inches in the place where you need it the most.

$89.00


Organic Body Contour

Relax and let us detoxify your skin to diminish cellulite/stretch marks through our Organic Body Wrap. Developed by a biochemist at UCLA med center, this wrap promotes immediate inch loss through internal cleansing of your tissues.

$89.00


Organic to Go
Detoxify your skin with the same great benefits of the Organic Body Wrap in a fraction of the time. Get wrapped in the Organic Body Wrap and head out letting the body wrap help you lose those inches throughout your day.


Add-ons:

$59.00

Seaweed Clay
$10.00
Detox Cream
$10.00
Copyright ©
2013
Web Design
by Web.com Group, Inc.